2012 Tournament Results


$6818.81 was raised for the Red Cross! Thanks everyone!!

Central MD Emergency Fund &nbsp 14.7% &nbsp $1,004.07
International Response Fund &nbsp 39.6% &nbsp $2,700.83
National Disaster Relief Fund &nbsp 45.7% &nbsp $3,113.90
Tournament results are shown below
Here's a look at the gold-topped Glass America trophies for this years winners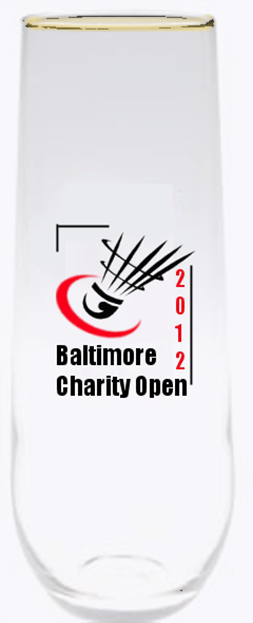 Trophies for the "A", "B", "C" and "D" Winners
and the adult "A" Finalists
2012 Results
Click on the event below to download a spreadsheet of the brackets. Click to Disable Macros. Switch between the A,B,C,D brackets by clicking the tab at the bottom left of the spreadsheet. (If the tabs do not appear in Excel 2007, then within the VIEW tab, in the Window group, click Arrange All and under Arrange, click "Tiled").
Photos of the winners will be at bottom of this page.
Men's Doubles
won by Eddie CHow/Nadeera Gunatileka over Sandeep Kasat/Alan Tieu
Men's Singles
won by Asif Nisar over Ernest So
Women's Doubles
won by Vicki Zheng/Mingzi Zhang over Junko Murai/Ikuko Mukai-Cheh
Women's Singles
won by Tam Nguyen over Sandy Chan
Mixed Doubles
won by Sandeep Kasat/Junko Murai over Asif Nisar/Sharon Pang
Girls' Singles
won by Helen Gao (round robin)
Girls' Doubles
won by Krystal Vuong/Mindy Cheng (round robin)
Boys' Singles
won by CJ Ormita over Benson Sebastian
Boys' Doubles
won by Hashem Choudry/Paul Lomuntud over CJ Ormita/Steve Iringan
Pictures of this year's winners being awarded their grips, string and trophies can be found at:
Photobucket.com/Charity2012
Ling Vance has also provided some action photos at:
Picasa
The Tournament was organized this year by Rick & Nancy Wiker with Nick Wiker operating the computer, Thomas Plakkal recording scores and Nancy Wiker and Silver Chai handling the registration desk.